You Can Trust Our Experts In Camarillo With Your Restoration Needs
11/14/2019 (Permalink)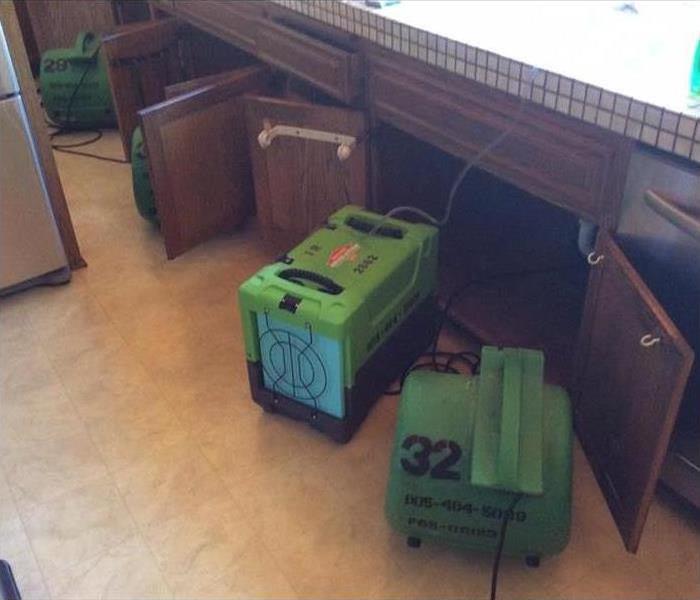 When your kitchen sink supply line breaks, our crew has your back! We have the equipment to restore your home 24/7.
Water Cleanup of Your Camarillo Home Protects Against Higher Costs, Extensive Damage, and Lost Possessions
After one of your toilets overflows, avoiding that bathroom and using another one leaves the situation to grow worse. Shutting the door does not keep contaminated water from seeping through seams between the floor's edge and the tub or other fixtures in the room. Your Camarillo home deserves better. SERVPRO can get things back to normal for you quickly, so your family can avoid the risks that arise from such murky situations.
When a customer calls about their house in Camarillo needing water cleanup after a toilet overflows, we start working on the situation as soon as we arrive. We're Faster To Any Size Disaster, and any type, too. Because we keep our Green Fleet prepared at all times, we do not need to add containers of disinfectant, other chemicals, or equipment before leaving. If a problem still exists with the toilet, our building services crew is available to fix the problem.
Doing as little as possible and just cleaning the visible mess might seem the most cost-effective method. However, this only makes things look like the job is taken care of adequately. SERVPRO knows that to provide customers with real value, we must eliminate all of the water, wherever it migrated, and clean up the contamination. Only this way can we prevent damage from spreading and affecting other areas of your house. This also keeps damage to your family's possessions minimized.
Larger areas affected by water damage cost more, even if not initially. It is better for us to do a complete and thorough job now than to wait until damaged areas become impossible for you to ignore. Achieving this might require us to set up air movers in adjacent locations, or even place them on other floors of your residence.
Air movers do more than dry the structures in your home. While they push the air around, they also draw moisture that your walls absorbed and pulling it back into the air. This raises the water vapor levels, but our dehumidifiers strip this out of the air as it passes through. The dry air that exits the machine can then absorb more moisture, until the area becomes dry again.
This drier environment becomes inhospitable to microbes. Our disinfecting sprays that we apply as soon as we start working already killed off the majority of those present, but the dry conditions we work toward help finish off the more hardy microbes.
Fewer microbes in the area means fewer things become damaged, like clothing, towels, and other items that you store in or near the bathroom. Because they are microscopic, they can hide inside the smallest cracks and avoid topical sprays. Arid conditions finish off the last few and keep your belongings from becoming damaged.
When SERVPRO of Camarillo completes a job, the property is just "Like it never even happened." Call us at (805) 484-5009 when you need water cleanup services of situations involving clean or dirty water, so we can protect your home through proper mitigation.
See more about Camarillo.