The Real Truth About Carpets and Camarillo Water Damage
11/4/2018 (Permalink)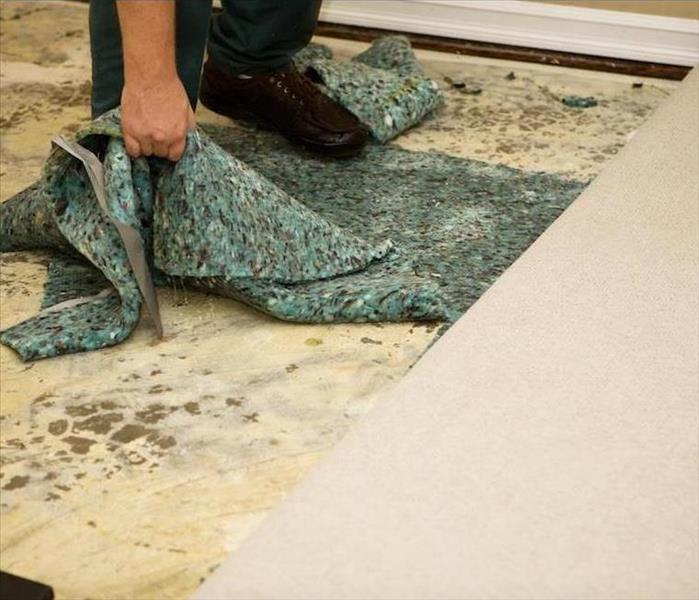 Water damage to your carpet or other flooring can be quite extensive. Contact SERVPRO to assess, dry out and remediate any damage.
What Happens to Water-Damaged Carpeting in Camarillo?
One of the most vulnerable materials in the average home in Camarillo to water damage is carpeting. Most types of carpets cannot resist significant volumes of water and may become damaged beyond repair even by relatively mild incidents. Through our fast response times and well-rounded selection of treatments, SERVPRO can restore rather than replace as much carpet as possible, but often still has to replace sections of carpeting, if not the entire floor space. Here are some of the effects of water damage you may see to carpeted floors in your home.

Warping and Bending
One of the most visible signs of water damage to a Camarillo home may be the warping and bending of carpeted floors. After water naturally evaporates from some types of carpet, they can shrink and bend, often pulling away from walls and seams to create ugly gaps on the floor. Depending on the material used, we may be able to stop this from happening, but any section of carpet that has already warped most often has to be replaced.

Discoloration
Water damage can cause carpeting to lose its color, either through a washing away of pigments or color bleed between one material and another. If the carpet has any separate rugs on top of it, be sure to remove them and place them somewhere dry and where you can contain any dyed water that may leak out. Otherwise, you may need to either replace the section of discolored carpet or move on with a visible stain.

Ruined Tack Strips
In some cases, as carpeting warps and shrinks, it may pull hard enough against tack strips to permanently damage them. Also, if the spread of water was extensive enough, it may have soaked into them and altered their shape. Laying down new tack strips is not an expensive process, but it is a complication that can lengthen the restoration process.

SERVPRO of Camarillo prioritizes restoration over replacement and can help to save as much of your carpeting as possible after water damage. Call us at (805) 484-5009.

Click here for more about Camarillo.